2019 Winner:
ROUSH RENTALS WATERVIEW APARTMENTS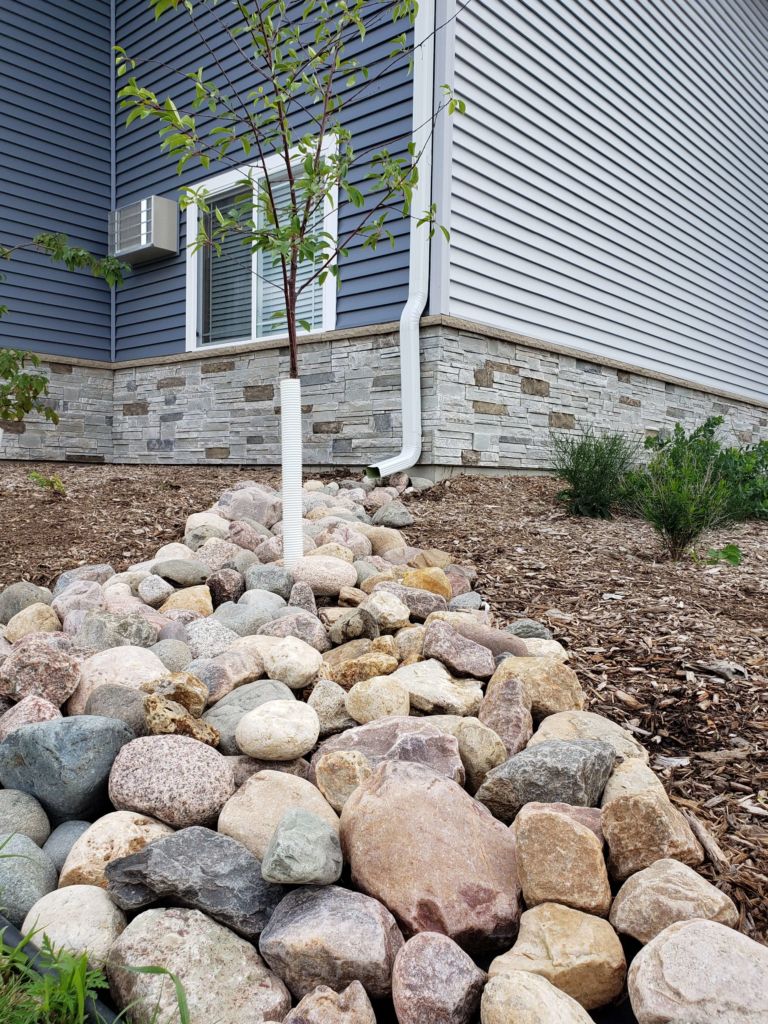 Attention to stormwater runoff at the Waterview Apartments site was not only mandated by law, but visibly necessary. Runoff from the property flows directly to the Mississippi River. So from the start, the developer intended to exceed legal requirements for reducing suspended solids reaching the river.
The stormwater management strategy at at Waterview Apartments, designed by Makepeace Engineering, includes rain gardens (bioinfiltration basins) as a primary strategy for reducing runoff. Each downspout on the property points to a low area where water is absorbed. A large biofilter garden at the center the property is planted with deep rooted, native, edible plants. A swale planted with native trees surrounds the property, to hold and infiltrate standing water. Hundreds of species of water tolerant native plants fill the gardens to hold soil, absorb water, and support pollinators throughout the growing season.
Cardboard from Smith's Bike Shop in La Crosse was used as a weed barrier instead of plastic landscaping fabric. Bikes arrive at the shop in large cardboard boxes, so the owners are happy to provide them to people to use for this purpose, rather than send them to the landfill or power plant. Over time cardboard naturally biodegrades, blending with mulch as plants expand and retaining water to keep plants healthy.
Waterview Apartments moved beyond standard commercial landscaping and chose, instead, a plan focused on food, beauty, and ecological functionality. The landscape now cleans stormwater, provides habitat, cycles out carbon dioxide, and cools the environment around the building.
"It's a symbiotic little circle where everyone benefits," said Roush, "I love situations where everyone involved wins. We try to use good materials and design our landscaping so we'll have a product that will last a very long time, be kind to the environment around us, and be a great long term investment for our community. We approach every project we've built this way and fully intend to keep it up!"
TELL ME ABOUT THE PROCESS BEFORE LANDSCAPING WAS DONE. WERE YOU INVOLVED WITH PLANNING? DID YOU UNDERSTAND WHY CERTAIN THINGS WERE BEING DONE TO PREVENT RUNOFF?
Yes, I'm involved with all parts of the planning process. The needs at Waterview were very important because the stormwater there runs directly into the Mississippi River.  We had to make sure there was an adequate reduction in suspended solids and clean up the water before it made its way to the river.  Our intent from the start was to meet and exceed the requirements, due to the sensitive location of the project.
In addition to needing to deal with all the runoff properly, we wanted to make the site beautiful and inviting for all of our residents!  From the first conversation I had with Judson and Aric from Coulee Region Ecoscapes (landscaper), we wanted to make it beautiful and functional with a food forest.
WHAT EXACTLY WAS DONE ON THE PROPERTY? TELL ME ABOUT THE RAIN GARDENS, NATIVE PLANTS, EDIBLE LANDSCAPE, ETC.
The rain gardens and runoff routing is all designed to clean the water before it makes its way to the river.  Thanks to our partners at CRE, we used all native plant varieties and edibles. Another big factor is creating as many plantings as possible with smaller but denser plugs that will grow and cover more ground over time. The more ground cover, the less need for mulch and labor over time, saving carbon footprint in hauling and maintaining all the beds.  More plantings also work to reduce erosion and help with soil retention.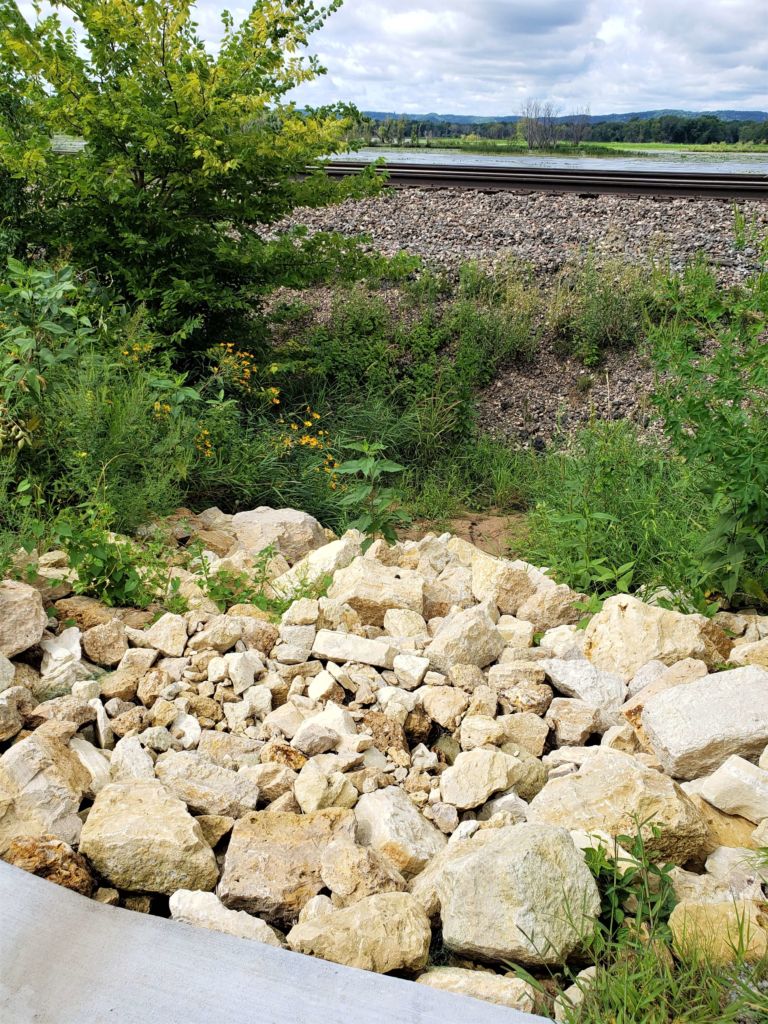 We were also really mindful to get the right kinds of plants in the right places. We included water-friendly plants that bloomed at different times during the season, attracted various pollinators and would flourish and not be killed by the reality of salt in our winter climate.
Another really cool partnership and feature is the cardboard we used for weed barrier vs. plastic fabric. All of the cardboard for our weed barrier was sourced from our friends at Smith's Bike Shop. All of their bikes come in large cardboard boxes, so instead of those boxes ending up in the landfill or power plant, we used them for weed barrier.  We literally used hundreds of boxes!  Over time, the cardboard naturally biodegrades and blends with the mulch beds as the plants expand to cover more space.  As you might imagine, the plastic based weed barrier basically never biodegrades and actually hinders the spread of all the plants in the gardens.  Additionally, the cardboard acts to retain more rain and irrigation water to keep the plants healthy and happy, lowering our water use for irrigation while the plants get established and more drought tolerant.
The last big point of this is the local environmental and economical circle of life.  Someone buys a bike at Smiths (helping support local business/employees and diverting waste from the landfill or power plant), CRE uses the cardboard to create an environmentally friendly and superior weed barrier (again supporting local business and employees and being a better stewards for the environment), Roush Rentals provides really nice and fairly priced rental options for our tenants and less maintenance and sustainability over time helps our tenants save!
Supporting local business, helping the environment and helping the customer. It's really a symbiotic little circle where everyone benefits! And, buying a bike from Smiths also means exercise is likely happening vs. transportation and the use of fossil fuels. The more I think about that little circle, I could add tons of details that are helpful and symbiotic. I just love situations where everyone involved wins!!
TALK TO ME ABOUT YOUR REACTION AFTER THE LANDSCAPING WAS INSTALLED. WHAT ARE YOUR FAVORITE PARTS? IS THERE ANYTHING YOU WISH YOU WOULD HAVE DONE DIFFERENTLY?
To be honest, I wouldn't change anything at this point.  I'm ecstatic with the end result! I'm just excited to see all the plants grow, fill in and flourish. The edible elements and flowering trees in spring are my favorite parts. I'm stoked for me and my tenants to pick raspberries next summer!  We already got some beautiful tart cherries this year from trees that were just planted!
WHY IS BEING SUSTAINABLE IMPORTANT TO YOU PERSONALLY AND PROFESSIONALLY?
Sustainability is super important to me in our development projects.  Both environmentally and economically.  We try to use good materials and design our sites and landscaping properly so that we have a product that will last a very long time, be kind to the environment around us and be a great long term investment for our community.  We also source as much labor and materials from local companies as possible to create properties that are a great value for our tenants. These efforts help sustain our local economy. We approached every project we've built this way and fully intend to keep it up!
It's important to our business for TONS of reasons. If we're trying to act sustainably, we are creating a sustainable product for our customers and the environment around us. Saving money and helping everyone involved. Investing in better buildings, construction and sites means our projects will be here long after I'm gone…creating opportunities and less waste for future generations.
HOW DID YOU FEEL WHEN YOU FIRST FOUND OUT THAT YOU WERE NOMINATED FOR THE SOAK IT UP! PROJECT AWARD?
I was really excited when I first got the call our project was being nominated. I hope that what we've done, in going above and beyond the requirements can be a great example for others to build environmentally friendly sites. And I have to give a huge thank you to Judson Steinback and all the awesome people at Coulee Region Ecoscapes, as well as Makepeace Engineering and Hess Excavating.  We could not have designed and built this project without all of them!
WHAT ARE YOUR HOPES FOR OTHER HOMEOWNERS AND BUSINESS OWNERS IN OUR COMMUNITY WHEN IT COMES TO REDUCING RUNOFF?
My hope is that good projects like ours can be an example of how to do it right and help our environment. To inspire people into what's possible if we all do our part to make our little piece of the world a little better. Community is important to me on so many levels.  We have to take care of each other, because it does "take a village". All of us, working to better our own lives and better the lives of our neighbors is what creates a strong community.  Supporting each other socially, buying local and helping local business, understanding that all parts of the community are important and need each other to thrive.
La Crosse Area Waters' annual Soak it Up! Award honors citizens who have completed a landscaping project that reduces stormwater runoff. Projects improve water management in our communities, the condition of local waterways, and livability of neighborhoods. Nominees lead by example, inspiring other community members to take on projects. Nominate a project for the next SOAK IT UP! award now!