2020 Co-Winner:
First Congregational Church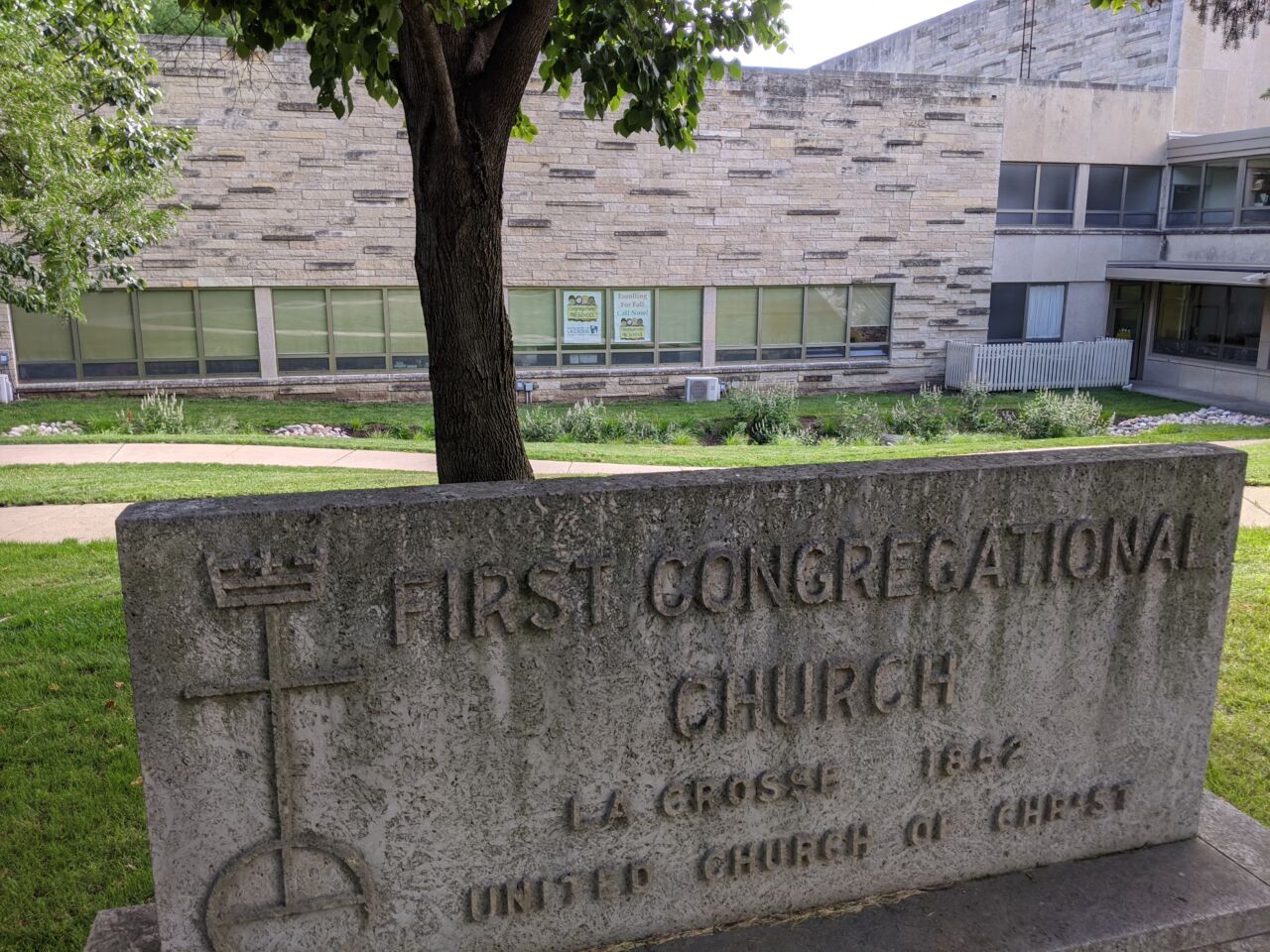 First Congregational Church knows sustainable solutions are not just the right thing to do, but a cost-effective way to work in the long run. As many other buildings in our area do, the church relied on a sump pump to control excess stormwater on the property. But the pump wasn't enough and if it failed, damage could be extreme. During heavy rains runoff came through door thresholds, seeped into the boiler room, and created a pond on the lawn. Staff and members of the church saw that extreme weather events are occurring more often than in the past, and expected more frequent, bigger water problems.
The congregation's 2020 construction project began with work on an existing depression in the lawn. A biofilter rain garden was built around an existing drain to help runoff naturally soak in and filter pollutants. Native forbs and grasses were planted to improve soil and increase absorption with deep root systems that absorb more water than the grass that was there. They also did some regrading and built a concrete diversion curb to keep water from flowing down a wall directly to the boiler room.
The congregation took on this sustainable solution to enhance the building's efficiency, lower operating costs and enhance the community. They hope to lead by example and have a positive effect on downstream water quality while avoiding chemical use and reducing energy consumption.
"This is one of the sustainability efforts our building and grounds crew is implementing to "green" our environmental footprint, enhance our building's efficiency and lower our operating costs. We did this because it was the right thing to do. We are a progressive congregation and good stewardship of God's creation is an obligation and it begins at our church home."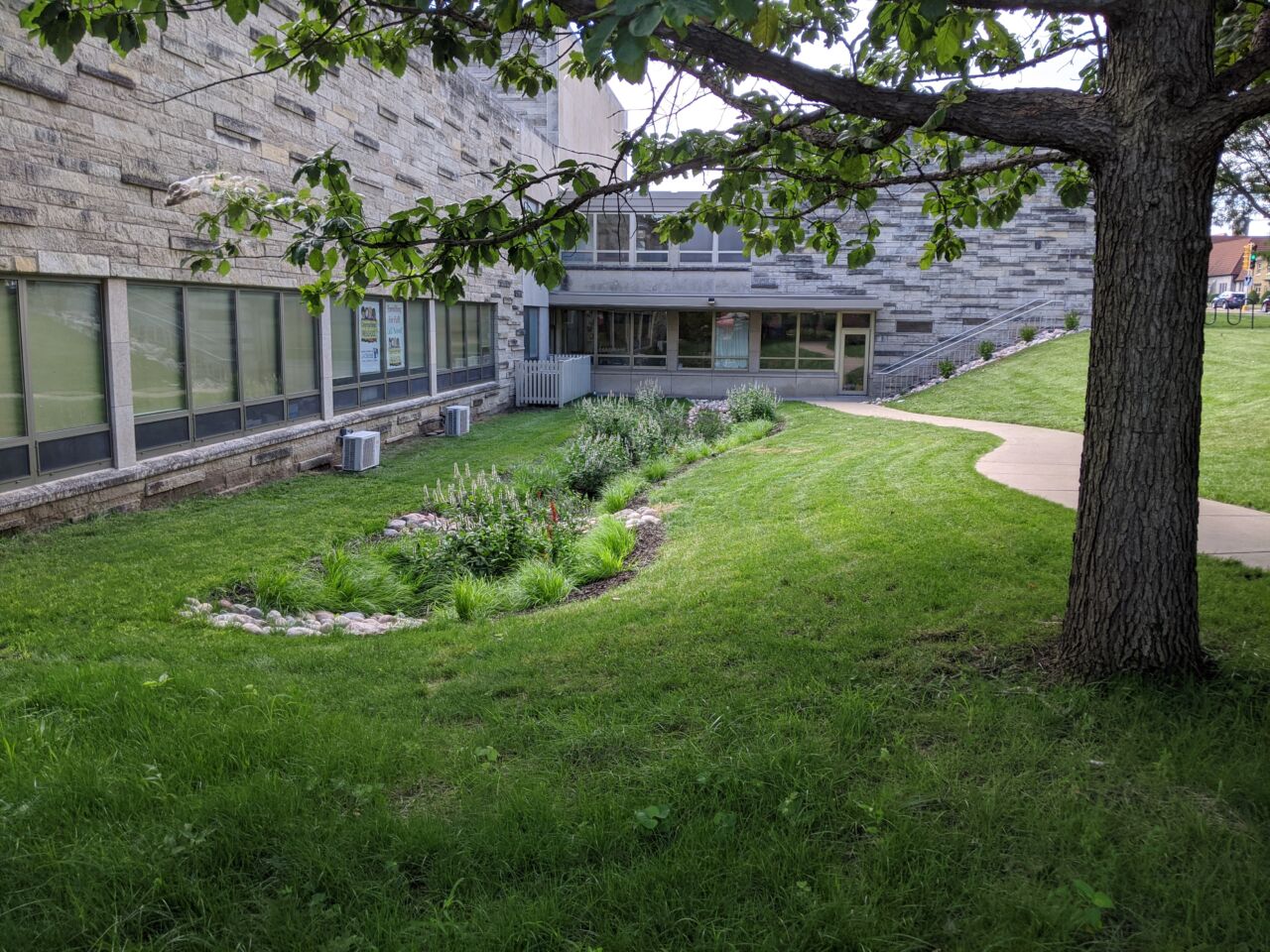 WHAT WAS THE WATER SITUATION BEFORE YOU DID YOUR LANDSCAPING PROJECT?
We worked closely with our landscaper to design the rain garden and associated stormwater management controls. We had issues during bigger rain events and spring melt with flooding of our boiler room, which is the lowest point in the building and below the original grade of the rain garden and the courtyard/playground on the east side of the building. This put tens of thousands of dollars of heating equipment and controls at potential risk. Also during a couple of very large downpours in 2017 and 2018, we had stormwater come in the lower level entryway and flood the hallway and some of the classrooms. With the increase in extreme weather events that are occurring with climate crisis, we were expecting more frequent and bigger water problems.
The heart of our problem was the east and west yards that were essentially the lowest point on the entire block. The catch basins in the west yard and in the east courtyard drained to a sump in the boiler room.  Then a sump pump, acting as a lift station, pumped water out of the building into the sanitary sewer because there are no storm sewer mains on the block. So we were relying on an electrically-powered, mechanical system to manage stormwater inside our building, in the boiler room! If the power had gone out during a large storm event, we could have had a big problem. We needed a solution that would not require a plumbing permit. So, working with the concept of capturing as much peak flow as possible given the available footprint, we worked out the rain garden and grading plan. We also included the concrete curb and small terrace to capture and divert runoff from the driveway to the new rain garden.
HOW EXACTLY DID YOU CHANGE THE PROPERTY? 
We constructed a two-level, terraced rain garden separated by a cobbled check dam to maximize infiltration along the full length of the rain garden, which was built on a sloped yard at the bottom of a hill. The lateral extent of the rain garden was constrained by the building on the east and the hill to the west, on the north the driveway, which was higher than the sidewalk and building entryways on the south. We expanded the width and depth of the rain garden to maximize capture and infiltration.  We did a single soil boring to 15 feet below land surface and found fine sand…ideal  for infiltration. A riser was placed on the existing catch basin and it serves as an overflow.
So far this year we have barely had water reach the low rain garden basin.   I suspect it will take a "biblical" rainfall to reach the overflow elevation. This solution also conserves energy and reduces our carbon footprint by taking a major load off the industrial sump pump that was pumping virtually all the stormwater that fell on our property.
Last year we also installed a cobbled conveyance along the stairway where we had chronic erosion issues for years, despite several "fixes." Problem solved!
WHAT WAS THE CONGREGATION'S REACTION WHEN LANDSCAPING WAS COMPLETED?
Generally, reactions have been very positive. There are a few members who prefer more traditional landscaping, and there is a concern about increased maintenance. But overall we like it very much and weeding has so far been pretty minor. We have pulled weeds just a few times—perhaps an hour total—and we have seen a lot bee activity in the rain garden this month and are pleased by that.
WHY IS SUSTAINABILITY IMPORTANT TO YOU?
We are a progressive congregation and good stewardship of God's creation is an obligation that begins at our church home. This is just one of the sustainability efforts we implemented to "green" our  environmental footprint, enhance our building's efficiency and lower our operating costs.
HOW DID YOU FEEL WHEN YOU LEARNED YOU WERE NOMINATED FOR THE SOAK IT UP! PROJECT AWARD?
We are excited. One member said to me, " We did it because it was the right thing to do, but it is nice to be recognized."
WHAT ARE YOUR HOPES FOR HOME AND BUSINESS OWNERS IN OUR COMMUNITY REGARDING RUNOFFNG
We hope we can lead by example, and we believe sustainable solutions are not just the right thing to do but the cost-effective solution in the long-term, especially when you factor in the unaccounted negative factors, such as downstream water quality impacts and avoidable energy consumption and chemical use.
La Crosse Area Waters' annual Soak it Up! Award honors citizens who have completed a landscaping project that reduces stormwater runoff. Projects improve water management in our communities, the condition of local waterways, and livability of neighborhoods. Nominees lead by example, inspiring other community members to take on projects. Nominate a project for the next SOAK IT UP! award now!